| | | | | |
| --- | --- | --- | --- | --- |
| Place name | County | State | Country | Elevation |
| Convict Lake | Mono County | California | USA | 7582 feet (2311 meters) |
| | | |
| --- | --- | --- |
| Latitude (DMS format) | Longitude (DMS format) | Map on which this town can be found |
| 37° 35' 19"N | 118° 51' 31"W | Convict Lake |
Convict Lake is located in Central California on the eastern slope of the scenic Sierra Nevada Mountains. The picturesque lake is found in southwestern Mono County, just a few miles from one of America's most popular ski resorts, Mammoth Mountain.

Convict Lake was featured in a Nature Valley Granola Bar commercial and the 1998 film Star Trek: Insurrection. A 1951 film, The Secret of Convict Lake, starring Glenn Ford, Gene Tierney, Ethel Barrymore, Zachary Scott and Jeanette Nolan, told a highly-fictionalized version of the real-life story that follows.

Origin of its unusual name
Convict Lake received its name as the result of a dramatic confrontation that took place there between escaped convicts and a posse led by law enforcement officer Robert Morrison. In 1871, after escaping from a Carson City prison, a group of criminals headed south into the Eastern Sierra in an attempt to elude the pursuing posse. By the time they'd made their way into the region, the band of desperados had stolen horses, provisions, weapons and murdered an innocent young man. The outlaws ambushed the posse when they caught up with them near the head of what is now Convict Creek, taking the life of lawman Robert Morrison. All but one of the convicts would eventually be killed or recaptured.

Not only was the lake named for the incident, but one of the spectacular mountain peaks that rises from around the lake -- Mount Morrison -- was named in honor of the lawman who gave his life in the line of duty while attempting to apprehend the prisoners.

Nearby towns:
Mammoth Lakes, California (to the west)
Crowley Lake, California (to the east)
Bishop, California (to the southeast)

Time Zone: Convict Lake, California is in the Pacific Time Zone.

Over the years, points of interest in the region have included:
* Crowley Lake, east of Convict Lake
* Ansel Adams Wilderness, west of June Lake, California
* Mammoth Lakes, California, west of Convict Lake
* Mammoth Mountain Ski Area, west of Mammoth Lakes
* Devil's Postpile National Monument, west of Mammoth Mountain
* Yosemite National Park, northwest of Mammoth Lakes
* June Lake, California, north of Mammoth Lakes
* Obsidian Dome, north of Mammoth Lakes
* Mono-Inyo Craters, north of Mammoth Lakes
* John Muir Wilderness, southwest of Convict Lake
* Mono Lake Tufa State Reserve, north of June Lake, California
* Bodie State Historic Park (a gold-mining ghost town), north of Mono Lake

Recreational opportunities in the area
Camping, boating, fishing, hunting, skiing, cross-country skiing, snowboarding, snowshoeing, snowmobiling, hiking, backpacking, rock climbing, picnicking, swimming, canoeing, mountain biking, bird watching, photography, wildlife viewing, golfing, ATV riding and horseback riding.

Wildlife found in the Eastern Sierra
Bear, bighorn sheep, bobcat, chipmunk, coyote, deer, jackrabbit, marmot, marten, porcupine, squirrel and the reclusive mountain lion.

A seemingly endless variety of birds spend time in the Eastern Sierra, including the dove, duck, eagle, falcon, finch, goose, grouse, gull, hawk, heron, loon, mockingbird, oriole, owl, pelican, plover, quail, sandpiper, starling, swallow, swan, vulture, warbler, woodpecker and wren.

Anglers will find outstanding fishing in the region, with streams and alpine lakes teeming with Brook, Brown, Cutthroat, Golden, Rainbow and Alpers Trout.


NOTE: Neither Mammoth Lakes, nor Mammoth Mountain is spelled "Mammouth" or "Monmouth" as is occasionally reported by some uninformed sources.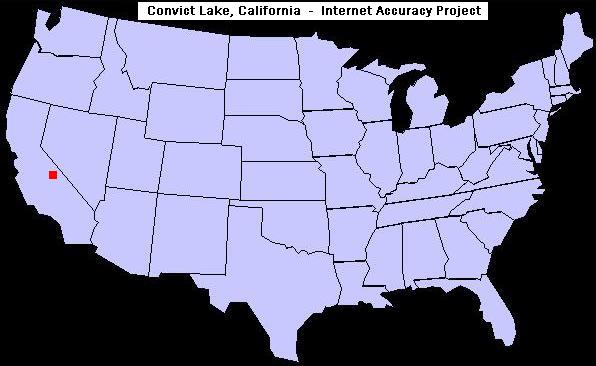 U.S. map showing the location of Convict Lake, California
For an extensive list of other odd town names in the United States, visit our page of unusual, bizarre or humorous names of towns.